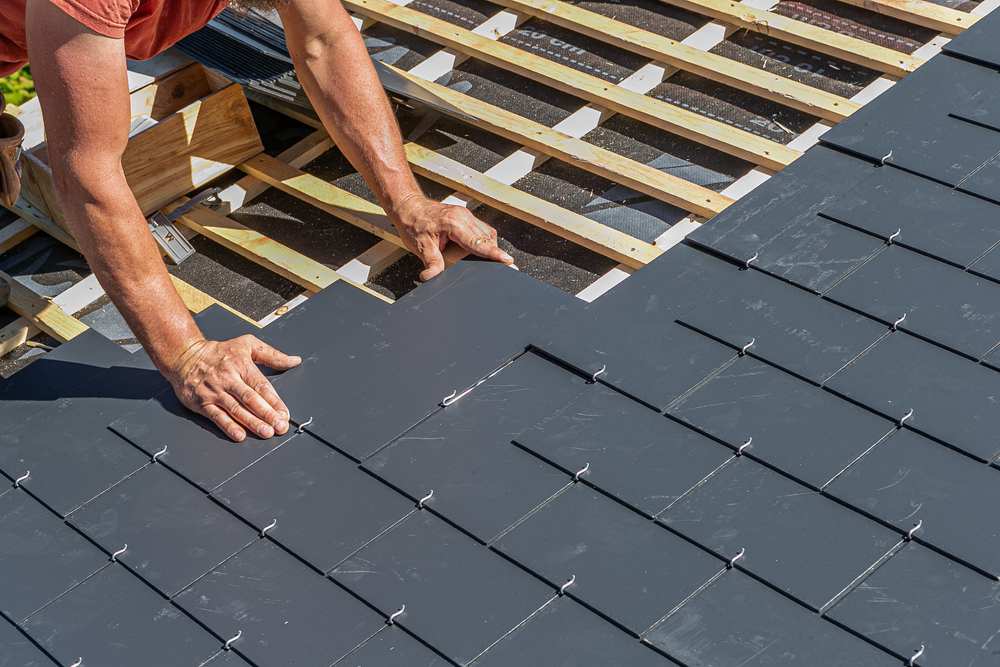 Slate Roof Repair
Slate roofing is incredibly durable, but strong winds, torrential rain, and heavy snow can still cause damage. A damaged roof can't adequately protect you from the elements and can even lead to structural issues down the line. Fortunately, Hermitage Roofing Company, Inc. offers slate roof repair services to homeowners in Richmond.
What Does Slate Roof Repair Entail?
Slate roof repair has several steps. The first is inspection, which includes the use of visuals and moisture-detecting tools. If the issues are minimal, we can recommend repair instead of replacement.
Repair Holes
Once we've pinpointed the trouble, we can patch it up. To do so, we remove any broken or cracked tiles and fix the roof components underneath. It's crucial to make a water-tight patch, as the area will be more vulnerable to moisture.
Replace Tiles
With the underlying issue fixed, we install new slate tiles that will match your roof and protect the underlayment.
What Are the Signs a Slate Roof Needs Repair?
How can you tell if you need slate roof repair? In some cases, you may notice a problem right away, such as when a storm knocks a branch onto your roof. However, some signs are more insidious, so you need to keep an eye out.
Missing Tiles
Slate tiles can get knocked loose by strong winds or debris. In some cases, they may get blown off and expose the underlayment. If you see open spaces on your roof, it's time to call a professional.
Leaks
Have you noticed mysterious puddles around the house? Does their appearance correspond with rainy days? If you have an on-again, off-again leak, the water may be coming through your roof.
Mold
Moisture leads to mold, which can sometimes grow inside walls and in other hidden places. If you notice a bad odor and water damage, you may have mold, which means water is getting into your house.
Why Call Hermitage Roofing Company, Inc. for Slate Roof Repair Services?
In this industry, it's not enough to just know how to repair a slate roof. We want Richmond homeowners to feel secure in their houses and get back to their everyday routines as quickly as possible.
Stellar Customer Service
Our technicians are always courteous and communicative. We understand how stressful home repairs can be, which is why we accommodate you to the best of our ability. If you have any questions or concerns, we want to hear them.
Extensive Experience
Hermitage Roofing Company, Inc. has served our community for 70 years, and our technicians have a combined experience of 100 years. With statistics like these, we're one of the most qualified companies out there.
How Can You Get an Estimate?
Suppose you think your slate roof is damaged. In that case, it's time to call Hermitage Roofing Company, Inc. We can repair and replace roofs for Richmond homeowners and even offer emergency services for days when disaster strikes. To learn more or get an estimate, call us at (804) 746-2628 or contact us online.
Featured Image: JPC-PROD/Shutterstock